Support MCCS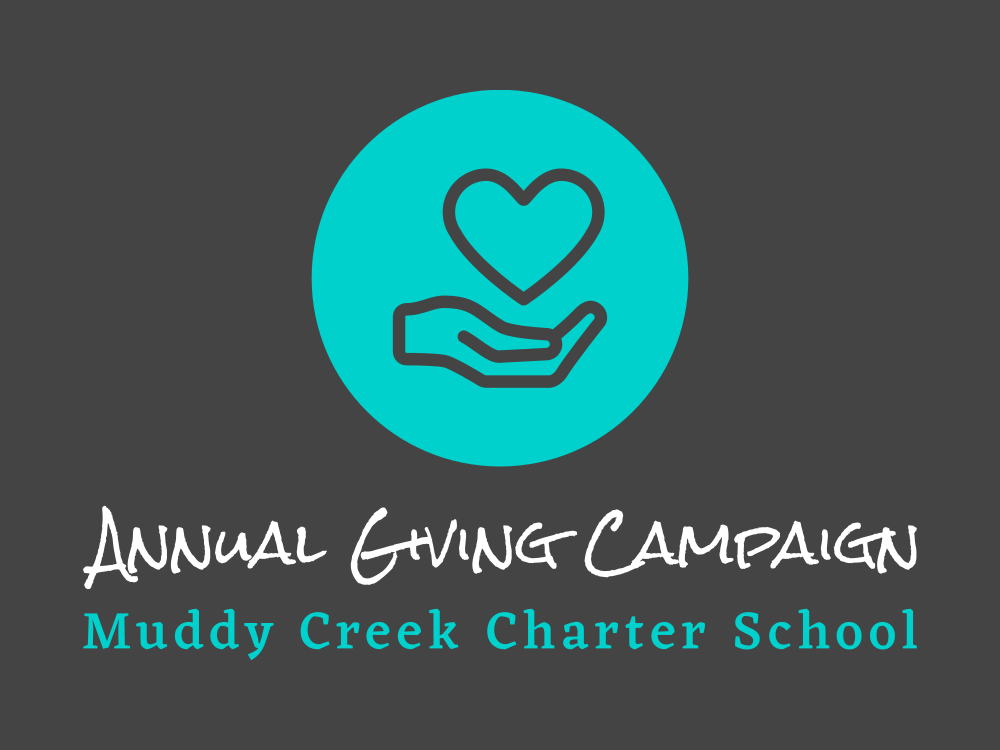 While Muddy Creek is a Charter School, and charter schools are a part of the public school system, we do not receive as much funding from the state of Oregon as other public schools do. We receive only 87.5% of every state dollar provided per student; Corvallis School District retains the remaining 12.5% as our sponsor. We call that 12.5% "The Gap".
In order to provide the same high-quality education to our students, we ask the parents to contribute what they can to close our gap. This year our Annual Giving Campaign goal is $50,000!
The fundraising target for the school year is $450 per student
That is just 10 payments of $45! This amount covers the gap between our existing revenue and our operating budget, in addition to contributing a small amount to the long term financial sustainability of the school.
Muddy Creek has set a goal of 100% family participation to close this gap, and we provide several fundraising opportunities throughout the year to enable families to donate. We know that some families are able to contribute more than the $450 Gap Contribution and some will need to contribute less. Regardless of the size of your contribution, we hope that all families will find a way to financially support our operational budget, core academic program, CSD charter requirements, facilities costs, and teacher salaries.
| | |
| --- | --- |
| Donate once, using a Credit Card | Schedule monthly payments, using PayPal |
| | |
Other Ways to Help
Earn While You Shop: Boxtops for Education, Fred Meyer, Natural Foods Co-op, and Grocery Outlet are local businesses who support schools. Muddy Creek receives a percentage of the profits from these programs every time one of our community members makes a purchase. It just takes a few moments to sign up for their programs and you can earn money for MCCS while you shop!
Direct Classroom Donations: Our school and teacher wish lists are updated periodically as the needs of the school develop. Check back often and make your teacher's day!
Donations may also be made in person or mailed to 30252 Bellfountain Rd., Corvallis, OR 97333. Your contributions really make a difference and are greatly appreciated. Donations of items and funds are welcomed by the school. All donations may be claimed as a tax deduction with a receipt issued from the office. EIN #20-5111506
Make Your Donation Go Further
Did you know that many employers offer a matching gift program for donations or volunteer hours? Some companies are even qualifying help with distance learning while students are at home with distance learning as volunteer time that can be matched. Check with your employer to see!
Some examples of local companies with matching programs are: Intel, Hewlett Packard, Lam Research, Mentor Graphics, PGE, Microsoft, Wells Fargo, Standard Insurance, The Home Depot, Verizon, and more!
Annual Fundraisers
Scholastic Book Fair: Students and families can buy books online or in person every fall at the Scholastic Book Fair! You can buy books from Teacher Wish Lists, sponsor students, make donations, and stock up on books for your home library. All proceeds go to our school library.
Walk/Move-a-thon: You can sponsor a child for the number of laps they can run or how much dancing/movement they can do in a given amount of time. This is a great way to help them get exercise and raise money at the same time. This event usually takes place in the Spring.
Restaurant Nights: The PTO coordinates local restaurant nights.  If you purchase a meal from the restaurant on our selected date, a portion of the proceeds come back to our school. Watch the newsletter throughout the year for details.
Auction: Join us for a fancy night of food and frivolity! In addition to a meal and some entertainment, we will have student art, classroom projects, donations, good & services, and more on the auction block.
Plant Sale: Our students love to grow in their classrooms. And they love selling their plants to people in the community even more! Our school garden is getting a big overhaul this year and we hope to bring you even more chances to get growing at your home as well. Save the date for Mid May.
Targeted Donations: Families may choose to donate funds for a specific use at the school.  For example, playground donations will be set aside to support the eventual development of our playground.  Families should speak with the school director before making a targeted donation to make sure their giving goals are in line with the school's needs.